All the data are base on our 30 natrual rubber processing plant and are only for customers' reference, we can adjust the specification according to your requirements.
Natural rubber processing machinery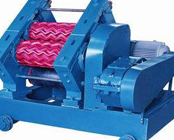 The machinery used in the plant outlined in this proposal is of the latest design. The ease with which this high performance, low power consumption, automated machinery can be used make the need for operators minimal.

The plant itself was designed by companies with 30 years of experience in mechanical engineering for companies with vast reservoirs of knowledge and experience selecting to the use of rubber, chemicals, and their effects on one another. Though other countries may offer plants of a similar nature, none can match the quality or price of a Taiwan made rubber latex dipping plant. Moreover, the service offered by companies in the Republic of China make the establishment of this plant an ideal investment.


Plan Layout
| | | |
| --- | --- | --- |
| | | |
| Prepration | Bucket Elevator | Bucket Elevator |
| | | |
| Creper | Crash | Crash |
| | | |
| Drying | Drying | Drying |
| | | |
| Baling Press Machine | Baling Press Machine | Baling Press Machine |
| | | |
| Baling Press Machine | Package | package |